World Cup on Sea 2022
Saturday 21st May 2022 saw The Power Rangers return to the World Cup-on-Sea charity football tournament at Southend United's home ground, Roots Hall, to raise money for HARP, helping local people overcome homelessness.
After a few weeks of intense training, the mighty Power Rangers Manager, Chris Park, was confident, as was captain Johnny Bailey. There was a real mixture of youth and experience with Brad Manning, Adam Mullinger, Harry Longman, Flynn Burke and Gareth Davies joining Johnny from Power Testing. To bolster our team and make up a well needed 11 players, we enlisted the help of Rob Knight, our team captain from 2019, along with support from a few 'ringers':
Reese: Ellie's Brother and absolutely mustard
Levi & Jamie: Johnny's mates who row on the pitch more than most couples do when driving
Alex in goal: A diamond find from spaghetti legs Harry
The team arrived at 8am full of optimism and enthusiasm for what the day may bring and hoping to beat our 3rd place finish in 2019. After team inductions and a team talk from Chris, came the long wait until the Power Rangers first match at 10.40am. This gave our vocal supporters in the shape of Tiff, Lynn, Ellie, Dylan, Jay, Zoe and some family members the chance to take their seats.
The first group stage match was a great start with a 3-1 win and goals from Johnny, Levi & Brad, with most players getting time on the pitch to warm up.
The second group stage at 11.20am saw a massive 5-0 win with amazing goals scored by Harry x 2, Adam, Jamie & Levi. Gareth also made a brief guest appearance on pitch, marshalling the back line.
Our final group stage match at 12.40pm and saw us go up against some tough competition in Central FX, knowing a draw would guarantee top spot and progress to the last 16 due to our superior goal difference. This was the most challenging game so far with some outstanding saves from both sides & tackles flying in. After going 1-0 down early on, the Power Rangers showed their resilience, battling back to earn a 1-1 draw, with Harry finishing off a lovely team move.
The games were coming thick and fast now with our last 16 game kicking off 10 minutes after the completion of our group stage. We were up against the tournament's organisers and chosen charity, HARP, knowing that only a win would guarantee Power Testing's path to the quarter finals.
We cruised into a 2-goal lead and then missed a hatful of chances to extend the lead, which gave HARP and their boisterous support hope. The match soon turned into a classic, with HARP clawing their way back into the match. It was a real seesaw of a game, which saw us continue to score but also concede at an alarming rate. We were never behind in the game but every time we thought we had put them to bed, they kept coming back. Eventually, we built a 6-4 lead and although we conceded again in the final few seconds, we did enough to progress to the Quarter Finals, with Harry showing silky skills and prowess finishing again and Johnny being his combative self in the middle of the park.
There was just enough time between matches to recover and regain focus, with Chris providing fluids, gels, and protein to aid recovery and a couple of players sneaking off for a hog roast roll!
The Quarter Final commenced at 13.50pm and from the outset our opponents were in it for the win, with hard tackles and some verbal altercations with the ref. We courageously stood up to the challenge but a knee to the leg put Johnny out of the competition, which was a massive loss following his great leadership role throughout the tournament. The game ended 0-0 and it was time for the penalty shootout. After 7 successive spot kicks for both teams, with the opposition doing everything they could to put our kickers off, Alex saved one from their star man. This left Reece the opportunity to score the winning penalty. He smashed it in – and lucky we didn't celebrate as the opposition complained to the ref that he had taken a 2-step run up instead of one step. Reece held his nerve to finish off his retaken penalty and send us through to the Semi-Finals – much to the annoyance of the opposing team.
After a short break it was time for the semi-final against strong looking challengers – and the same team that knocked us out at the same stage 3 years ago. Still reeling from the previous match, The Power Rangers used every ounce of energy they had remaining but were finally undone by 3 goals scored in quick succession halfway through the game. We managed to snatch a last-minute penalty but conceded again shortly after, with the game ending in a 4-1 loss.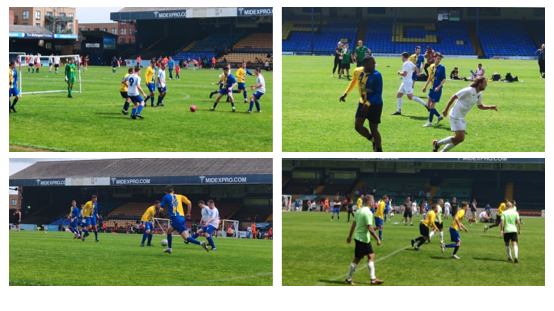 Overall, the day was a remarkable success, with over £24,000 raised online between the 32 teams, in addition to any funds raised on the day, with over £700 being raised by Power Testing. Again, we reached the semi-finals out of 32 teams, with a rag tag team with limited training – so will be looking to go even further next year with hopefully some old faces back in the team.
We would like to say a massive thank you to the event organisers, the charities, the Power Rangers Team, those that came to support on the day & of course thank you to everyone who donated.
And here's to next year – where the Power Rangers aim to improve on 3rd place and 'Bring it Home'!